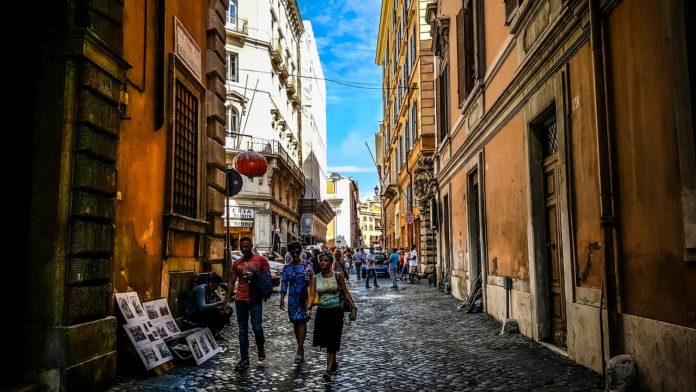 A very objective way of selecting window dressings is to first decide on what you want.  Firstly, you would like it to add aesthetic value to the windows and the overall décor of the room so it should look beautiful. Secondly, you would like to control entry of light and thirdly you would like to control the level of privacy.  All of these can be achieved by window blinds and window shades. Functionally, there is hardly any difference between the two. So, your next hurdle will be to choose between the two. Here again, applying your mind to understand how much of light control and privacy you are looking for will help you to decide whether you should go for blinds or shades because both window dressings are operated almost in the same way. But if you have a taste and inclination for fabric, history and class, you might choose Roman shades which are truly classy fabric window coverings.
Historical link
Remember the Coliseum of Rome where the elite and the noble Romans enjoyed sporting and other spectacular events that were often violent? It was the arena to demonstrate bravery and courage in front of huge crowds.  Those were the days when all outdoor activities were carried out in daylight and to protect the spectators from sunlight, fabric shades were used to cover the Coliseum that could be retracted. It offered shade and comfort to the spectators while allowing filtered light to pass through. Pulleys and ropes were used to operate these large coverings that are considered to be the origin of Roman blinds that are available in the market today.
Roman shades
In the simplest form, this fabric window treatment consists of horizontal bars that are used to create gentle folds of fabric with cords being used to pull down or draw up the shade. Usually, a liner is used along with the fabric so as to conceal the drawstrings and cords. The ripples of the fabric are a treat for the eyes. When the blinds are pulled down, it creates a soft lighting that has a soothing effect. The styling would depend on your choice of fabric and design.
Variety of Roman blinds
Two types of blinds are widely available in the market, which includes Classic (Flat) Roman Shades and Waterfall (Hobbled) Roman Shades
Classic (Flat) Roman Shades Flat – These shades hang flat on the window resting against the surface and is made from a single piece of fabric that runs continuously to create panels of fabric that have strong bars at the back for lending support and strength. These shades are perfect for those who prefer a structured and dignified look that is pristine and uncluttered.
Waterfall (Hobbled) Roman Shades – The specialty of this design is that the loose folds of the shades are displayed when it is raised and even when lowered. The cascading and rippled effect of the undulating folds gives the appearance of a waterfall and this is why these are also known as hobbled shades. These window blinds are ideal for creating a romantic mood and make the space more airy.
So, next time yo to plan to give a makeover to your home decor, always make  a wise choice considering your options well.